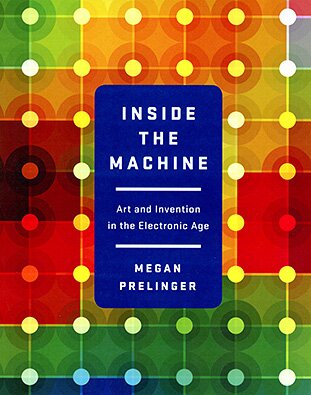 Just Released!
$35.00
Publisher:

W. W. Norton & Company

Edition:

First

Available in:

hardcover

ISBN:

978-0-393-08359-0

Published:

August 17, 2015
Buy from Local BooksellerBuy at Amazon
A highly original cultural history of 20th century technology examined through the lens of commercial art. . . . Sophisticated in its grasp of science and technological history but also accessible to general readers.
— Kirkus Reviews
Drawings of rotating atoms and mid-century robots will provide geeky pleasure for any science fan, and Prelinger spins her impressive research into a broad cultural study.
— Publishers Weekly
An essential and eye-popping visual history of electronics, a glimpse of the electronic infrastructure captured in the brief moment before it miniaturized down to a scale too small for the eye to see, disappearing from our ordinary view forever, even as it burrowed into our buildings, streets, vehicles, and even our bodies.
— Cory Doctorow, co-editor of Boing Boing and author of In Real Life and Information Doesn't Want to Be Free
A tour de force of the computer and electronic age that takes readers on a fascinating voyage that spans everything from graphic renderings of theoretical space gondolas to depictions of transistors as the route to utopia. Like Trevor Paglen's exploration of the visual aspects of secrecy, Megan Prelinger's Inside the Machine provides readers with a unique window into the history of electronics and computer science during the Cold War, and beyond. Merging science with art, Prelinger challenges our linear notions of scientific progress, helping us see a new dimension to our modern technological world.
— Sharon Weinberger, author of Imaginary Weapons: A Journey Through the Pentagon's Scientific Underworld
Because electrons are mostly invisible, our visualizations of them tell us more about our dreams than about electrons. This cool and unusual book gathers our earliest collective dreams about circuits and electronics, and makes them visible. It got me thinking about our assumptions for tomorrow. I love it when a book like this makes me see the world differently.
— Kevin Kelly, senior maverick for Wired magazine and author of What Technology Wants
In the early twentieth century, engineers learned to harness the flow of a powerful, invisible force: electrons. The technological revolution that began with this discovery would change human lives forever. Yet the enormous electronic infrastructures and networks that shape our world today remain hidden from our sight. In INSIDE THE MACHINE: Art and Invention in the Electronic Age, cultural historian Megan Prelinger guides readers through the history of electronics to show how a generation of commercial and fine artists rendered the most intangible and complex innovations of the twentieth century, irrevocably shaping our collective dreams of the digital. A full-color, large-format exploration of the electronic age, INSIDE THE MACHINE brings together the history of technology in America with over 150 images from magazines, industry pamphlets, and out-of-print books to showcase the powerful graphic and artistic representations of this burgeoning field.
In 1943, the editors of Fortune magazine declared the year of electronics and commissioned a glossy, four-panel insert to commemorate the occasion. The spread, entitled "Electronics: Techniques for a New World I," featured rainbow-colored rays, swerving curves, American bomber planes in flight, and vacuum tubes produced by one of the electronic titans of the day: General Electric. Peter Vardo, the lead designer, created a collage that brought together big industry, technology, and pop culture, all in one magazine spread. His work for Fortune in the 1940s would later influence Jackson Pollock and receive serious attention from art historians. This story is one of many in the fascinating intersection of technology and art. Designers like Peter Vardo, German emigré and former Bauhaus professor Herbert Bayer, and the Canadian painter Walter Tandy Murch would emerge as the creative minds who gave an abstract technology creative, evocative forms that would take hold in the popular imagination.
In a narrative that journeys through the emergence of vacuum tubes, crystals, circuit boards, cathode ray tubes, and mainframe computers, INSIDE THE MACHINE provides the political and cultural context to this astounding story of technological innovation. Examining companies such as IBM, Lockheed Martin, General Electric, and AT&T, Prelinger shows how they remained at the forefront of electronic innovation, shaping our modern world as it journeyed into space and explored the frontiers of automation, cybernetics, and bionics. At the same time, these companies faced the challenge of introducing their wares to a larger audience, portraying their work as both understandable and essential to the modern age.
Prelinger's discussion of the history of electronics in America is interwoven with analyses of hundreds of graphic advertisements, images, and creative designs that gave unprecedented visual forms to abstract, often invisible technologies. Artists, often fleeing a war-ravaged Europe, borrowed from the graphic traditions of Russian Futurism, Constructivism, Bauhaus, modernism, and conceptual art in giving life to images of electronics. As Prelinger shows, electronics also proved itself a remarkably suitable subject matter for modernist art: engineering symbols used for electric circuits became key components in graphic design, while ferromagnetic domains—used to conduct electron flow in a host of electronic components—became visual inspirations for paintings that crossed over into the sphere of high art.
Companies such as General Electric worked with designers like Herbert Bayer or the fine artist Kevin Staley, whose oil paintings of ferromagnetic domains for GE would gain critical acclaim in the 1960s art world. Artists like the Swiss-born modernist Willi Baum were hired as staff artists for companies such as Lockheed Martin in designing promotional materials to recruit engineers. Conversely, some of the processes that would become key to manufacturing electronics were derived from artistic practices, such as using silk-screening to formulate resistors within printed circuits. INSIDE THE MACHINE shows how this fruitful conversation between engineering and art led to a huge body of midcentury work that would give our changing world and its abstract technologies a new visual language.
Then there were artists who gave form to our utopian dreams of the promises technology held, ushering in an era of space-age iconography. With the beginning of the Cold War came space electronics. Large American aircraft firms such as Lockheed, the Martin Company, and Bell Aircraft sought to redefine themselves as aerospace companies that could provide missiles and rockets for a growing defense industry. As the space race took off, designers dreamed up fantastical advertisements showing space technology that did not yet exist—or that was still in prototype stages, depicting elaborate sci-fi scenarios that seemed just over the horizon. A dazzling exploration of the history of electronics as well as the men and women who shaped our dreams of the digital, INSIDE THE MACHINE reveals how art and technology worked hand in hand to create bold visions for a future world.
PAGES: 288
COLOR ILLUSTRATIONS: 154